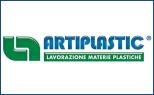 Artiplastic
Artiplastic is the market leader in the production of conduits for air conditioning and electricity.
To complete the range, a vast choice of fittings, joints, branches and reductions.
Showing
1
-8 of 39 item(s)
Operators in the sector know it: for correct and efficient installation of the air conditioner, accessories are also important. Artiplastic, in addition to the conduits for the hydraulic and electrical sector, also supplies a complete series of essential accessories for professionals.
Ducts and accessories are made of self-extinguishing rigid PVC resistant to sunlight capable of guaranteeing a perfect seal against any atmospheric agent.
Read more
Show less