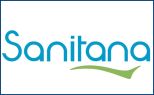 Sanitana
Sanitana is a company located in Anadia, Portugal, which manufactures and sells bathroom fixtures, shower trays and kitchen sinks.
Showing
1
-12 of 12 item(s)
The Sanitana company, founded in 1979, was the first Portuguese ceramic company dedicated exclusively to the manufacture of sanitary ware. The company produces bathroom fixtures, built-in washbasins, ceramic shower trays, excellent for the construction of building company specifications or hotel rooms.
Among the most well-known sanitaryware collections of the Sanitana brand are the Pop back-to-wall sanitary ware and the Munique wall-hung sanitary ware.
Among the most popular bathroom washbasins is the Smooth collection, in matt white recomposed also with integrated towel rail, available in different versions and sizes.
The selection of kitchen sinks by Sanitana is also very interesting. Among the best sellers is the America kitchen sink, available in different colours, versions and sizes.
Read more
Show less