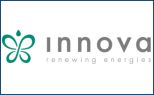 Innova
Innova is known for its modern air conditioning system with its production of the single unit air conditioner.
Innova air conditioners combine a modern and minimal design and minimize environmental impact.
The flagship of Innova is the 2.0 series air conditioner: it is a modern and performing single unit air conditioner.
Among the various air conditioning solutions, you can find on the market, this all in one air conditioner without an outdoor unit is the ideal product for those who cannot install the external unit outside their building.
Innova 2.0 is the ideal alternative to the indoor air conditioning unit unico air conditioning by olympia splendid.