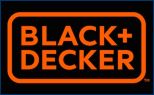 Black e Decker
Black and Decker manufactures power tools, small appliances and garden tools.
For over a century it has accompanied the work of DIY enthusiasts from all over the world.
Black and Decker is a brand born in Baltimore in 1910 from the initiative spirit of 2 young entrepreneurs. The company has always been oriented towards making domestic do-it-yourself simpler and more effective. Power tools, garden tools, tools and small appliances are part of the extensive range of Black and Decker products.
Read more
Show less