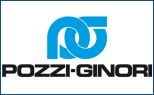 Pozzi Ginori
Pozzi Ginori is one of the most important Italian brands for the production of bathroom fixtures and washbasins.
Showing
1
-16 of 25 item(s)
Pozzi Ginori is one of the leading sanitary ware manufacturers in Europe and has been part of the Geberit Group since 2017.
That the history of Pozzi Ginori sanitary ware is made up of quality and great successes can be seen from the many series, even dated, which are still on the market and which are still sought after. Many of these were designed by world-famous designers such as Antonio Citterio, Matteo Thun and Le Corbusier.
Almost all the sanitary ware series are built with Rimfree technology: Pozzi Ginori toilets therefore allow maximum cleaning with minimum use of water.
500 COLLECTION: created in reduced dimensions and with a wide range of bidet toilets and washbasins, in order to better customize the most personal environment of the house. Design: Antonio Citterio with Sergio Brioschi
CITTERIO COLLECTION: Purity in design and rigorous beauty of shapes for the back-to-wall sanitary ware and wall-hung sanitary ware from the Citterio collection, whether square or rounded. A collection where design meets the consistency of materials. Design: Antonio Citterio with Sergio Brioschi
EASY.02 COLLECTION: Collection of simple but tasteful bathroom fixtures: it prefers rounded shapes and simple taste. Design: Antonio Citterio with Sergio Brioschi.
EGG COLLECTION: Egg, just like the shape of the bathroom fixtures in this collection. The egg is a universal and simple form that has always been synonymous with generation and regeneration. Design: Antonio Citterio with Sergio Brioschi
FAST COLLECTION: Collection of beautiful and comfortable bathroom fixtures. It is the solution to the problem of how to combine aesthetic qualities and functionality.
METRICA COLLECTION: the collection combines geometric and squared lines with a sophisticated design. It is Pozzi-Ginori's most sophisticated collection.
Q3 COLLECTION: Space and time, to be experienced according to the changing rhythms of one's way of being with the Pozzi Ginori Q3 sanitaryware collection. In the luxury of the senses. Design: Antonio Citterio with Sergio Brioschi
QUINTA COLLECTION the bathroom fixtures in the collection are a precious, unique and exclusive series. The bathroom is the mirror of comfort, a pleasure that is renewed. Design: Antonio Citterio with Sergio Brioschi
Read more
Show less