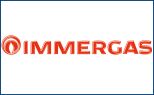 Immergas
Immergas manufactures and markets condensing boilers, traditional open chamber boilers, solar systems and heat pumps.
Showing
1
-16 of 166 item(s)
In our online range you will find Immergas boilers at unbeatable prices, with high energy class, compact and traditional gas boilers.
A condensing boiler, combined with thermostatic valves and thermostatic heads, allows you to significantly lower consumption with particular attention to the environment.
Choose an Immergas boiler for your home and you will be sure of having the perfect climate for every room with the guarantee of a network of assistance centers throughout Italy.
If, on the other hand, you want to use a more innovative system for heating your home, choose a safe, efficient and eco-friendly heat pump. Heat pumps and condensing boilers, in the event of replacement, can take advantage of the tax deductions in force (65% recovery and thermal account).
Immergas condensing boilers are technologically advanced gas boilers. The condensation technique on boilers allows considerable operating savings both on new heating systems and in the case of replacement of obsolete boilers in existing systems.
The range of condensing boilers can benefit from tax deductions, has a performance that meets the standards required by legislation (Legislative Decree 192/05 and subsequent amendments) in terms of efficiency of new heating systems, falls within class 5 (the most ecological in the classification established by the European standards UNI EN 297 and UNI EN 483), reduces emissions of carbon monoxide (CO) and nitrogen oxides (NOx).
The use of a wall-mounted condensing boiler allows you to save a lot of energy while protecting the environment.
Another widely used boiler is the Victrix Maior boiler, which is also suitable for residential systems.
The series of flue kits for boilers and ducting systems called "Green Series", allows high extensions as well as quick and simple installation.
On Acquacick you can find a traditional Immergas boiler Immergas condensing boiler and many other solutions for your home.
Condensing boilers (with the exception of the VICTRIX EXA) can take advantage of Formula Comfort Extra, the most complete maintenance program which entitles you to a 5-year guarantee with no activation costs.
All Immergas open chamber boilers are suitable for replacing appliances in old heating systems. The range offers a choice of products suitable for any system and comfort requirement with hi-tech, compact, ecological and storage versions.
Boilers are also available with a 54 liter output
Air-to-water heat pumps use the outside air as a source of renewable energy. Heat pumps are excellent for air conditioning homes, offices and new buildings in summer and winter. Heat pumps are one of the best solutions in terms of energy efficiency, operating economy and reduction of polluting emissions. Similarly, heat pump water heaters exploit aerothermal energy to heat domestic hot water.
The Immergas range of water heaters offers compact models for the instantaneous production of domestic hot water, which can be installed inside the home, outdoors in a partially protected place or recessed into the external wall of the building. The different set-ups can satisfy different system and space requirements.
Solar Ready products for solar thermal systems are integrated systems with condensing boiler and solar circuit for domestic hot water which guarantee maximum comfort, high efficiency and reduced gas consumption. They are ecological and efficient solutions that exploit the technology of high-efficiency condensing boilers and the free, renewable energy of the sun to heat the integrated boiler. The range of solutions for Solar Ready thermal solar systems is wide and complete. Boilers for Solar Ready solutions can take advantage of Formula Comfort Extra, the most complete maintenance program which entitles you to a 5-year guarantee with no activation costs.
Hybrid systems are the ideal solution for new homes when you want to create integrated heating systems for cooling and domestic hot water production according to the directives of Legislative Decree 28/2011 (on the use of renewable energy sources). They are hydraulically and electrically set up for combination with heat pumps and the use of solar thermal, they allow for the reduction of the space to be dedicated to the systems and allow for effective solutions to be created in small and large apartments. The boilers for Immergas compact hybrid systems can take advantage of Formula Comfort Extra, the most complete maintenance program which entitles you to a 5-year guarantee with no activation costs.
You can contact Acquaclick customer service via chat or email to get all the technical data sheets you need
Read more
Show less