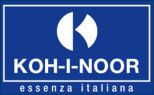 Koh-I-Noor
Koh-I-Noor was founded in 1930 and began production in Italy in 1950, with the aim to research the most elegant and at the same time functional design for the bathroom space.
Their range of products later expanded into accessories for personal grooming, and over time they developed a true vocation for everything bathroom, opening a division for Bathroom Décor and Furnishing in 1995, seeing the space as a whole to be lived in.
Qualified designers collaborate in-house and took their research to the next level as regards both detail refinement and style innovation, using state-of-the-art technology and materials, emphasizing the value of constant and qualified research.
Showing
1
-16 of 295 item(s)