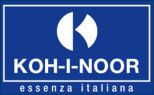 Koh-I-Noor
Koh i Noor is an Italian company based in Tradate, in the province of Varese which began the production of its first bathroom accessories in the 1950s, acquiring the Slovakian company of the same name which was involved in the sale of toothbrushes.
Showing
1
-16 of 282 item(s)
For more than 80 years, Koh i Noor bathroom accessories have furnished the bathrooms of many Italians and non-Italians with style and harmony, who love the typical quality and manufacturing of Made in Italy. All productions are still made today in the company's headquarters which is located in Tradate in the province of Varese.
Among its most popular collections is the LEM series which offers a range of objects in transparent polycarbonate available both in the version with fixing with 3M adhesive and in the version with dowel application.
Among the many innovative solutions put on the market by Koh i Noor, adhesive bathroom accessories are certainly one of the most successful. In fact, some series of accessories have been designed to be fixed to the wall only using the 3M adhesive kit which is included in the package and which guarantees an exceptional seal.
The great advantage of this type of accessory is that it allows you to equip your bathroom in the best possible way without drilling the wall so as not to be bound "forever" to the position of the accessories.
Another distinctive feature of Koh i Noor is the use of polycarbonate and ABS for the creation of bathroom accessories. Thanks to its consistency and versatility of use, this material allows you to create resistant and quality transparent but also colored bathroom accessories. The Koh i Noor range of colored bathroom accessories is undoubtedly one of the most characteristic features of the company. Manufacturing in Italy is certainly a further added value.
Mirrors are also part of the company's product range. Koh i Noor mirrors are available with or without lighting and have a wide range of customization possibilities. In fact, many of the models available in the catalog can be customized in size, in the choice of light (hot or cold) and can be enriched with options such as the anti-steam kit, the infrared switch, the recessed in the glass of the magnifying mirror x2 .
Koh-I-Noor magnifying mirrors are available in different types, with or without LED lighting and with wall or countertop fixing. All magnifying mirrors are characterized by an elegant design accentuated by careful finishes and carefully studied details.
Read more
Show less