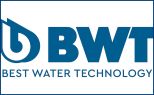 BWT Cillichemie
Cillichemie is part of the BWT Group and has been on the water purification market for many years.
The company pays close attention to the whole water cycle, from source to user. Thanks to its own research and development centre, it provides technology for privates, companies and industrial plants.
Cillichemie has always aimed to protect the environment, ever since its creation. The correct purification of water is part of this mission, as it reduces energy costs by at least 20%, and allows you to protect your water system from limescale and corrosion. To avoid the latter, and any damage to dishwashers, washing machines, laundry and any other domestic appliance, Cillichemie has patented its Cyber® technique, which reduces the use of detergents and soaps as well as the amount of regeneration of the water softening systems. This performance improvement allows you to recoup the installation costs in a very short amount of time.