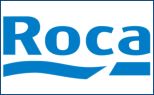 Roca
Roca is an international company that has been operating in the bathroom ceramics sector for over 100 years. It places a complete range of products on the market which include bathroom fixtures, trays and shower cubicles, bathtubs, furniture and furnishing accessories.
Showing
1
-16 of 57 item(s)
For some time now, the company has established a collaborative relationship with the best-known international designers, to place products with attention to every minimum detail on the market.
Technological innovation is another of the aspects that Roca takes the most care of: the company is always looking for new solutions to improve and innovate its products and to always keep the quality standard high at all stages of the production process.
Read more
Show less