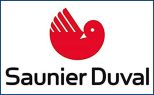 Saunier Duval
Hermann Saunier Duval is a brand present on the Italian and international market. It produces boilers, water heaters, heat pumps and control and management systems with thermostats and control units.
Showing
1
-16 of 27 item(s)
Among the water heaters, one of the most requested models is the Opalia water heater, available both as an open chamber and sealed chamber model and with a very attractive price and ideal for supplying construction sites, specifications for many apartments and hotels.
In the Saunier Duval catalog there are condensing boilers with top-level performance and low gas consumption, but also traditional boilers, available in both the outdoor and indoor versions.
In the Hermann Saunier Duval catalog, water heaters with low Nox emissions (class 6) are available in compliance with current legislation on harmful emissions. An example is the Opalia water heater which, with compact dimensions, fully satisfies the need to produce domestic hot water with an eye to the environment.
It is also possible to purchase a special accessory to be able to install the Opalia water heater outside with temperatures down to -25 degrees.
The Saunier Duval range is also completed by efficient air conditioners in class A+++ and heat pumps, an innovative heating and cooling system.
Read more
Show less