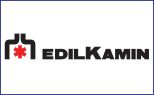 Edilkamin
Edilkamin is the undisputed leader in wood and pellet heating.
Thanks to a very important experience gained in the design and construction of fireplaces, today Edilkamin creates technologies for economic and ecological domestic heating.
Showing
1
-16 of 20 item(s)
Edilkamin is an Italian company specialized in the production of heating systems, in particular pellet or wood stoves and fireplaces.
Two other companies are part of the group: Italiana Camini and Kitchen Kamin, for the production and sale of cookers and barbecues.
The product range includes pellet stoves and fireplaces.
In the catalog you will find minimal or traditional pellet stoves, suitable for any type of home.
Pellet stoves produce hot air to heat the room in which they are installed and, depending on the models and with special kits, they can also introduce hot air into neighboring rooms.
Pellet stoves can be conveniently managed remotely using a special app so as to always have the preferred climate available.
Fireplaces, on the other hand, can be fueled with pellets but also with wood. Compared to pellet stoves, they do not have a self-supporting structure and must be "housed" by a masonry fireplace or by a special plasterboard structure.
Even fireplaces can be managed by an app remotely.
The fireplace family also includes thermo-fireplaces which, in addition to heating the room, also heat the radiators of the house.
Read more
Show less