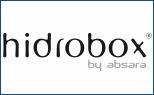 Hidrobox
Hidrobox is a company specialized in the production of shower trays, bathtubs and washbasins.
It is based in Spain and the peculiar feature of its excellent products is the use of natural compounds.
In addition to the acrylic shower trays, Hidrobox produces shower trays using two natural compounds for which it holds the patent.
Scene is a composition made of natural materials, organic polymers and additives which make it possible to obtain an easily malleable and very resistant material. The long life and the pleasant sensation to the touch make it the perfect element for the creation of high-end shower trays.
Marmek, on the other hand, is a compound made with resins and minerals derived from marble. The result is a perfect compound for use in the bathroom. The main feature is the possibility of having infinite color combinations: given a RAL, the shower tray can be colored to obtain a perfect matt finish.
Read more
Show less