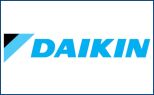 Daikin
Daikin is a global leader in air conditioners and heat pumps production.
The daikin air conditioning systems are known for their high performances and their cutting-edge technologies around the world.
Daiken has a good assistance network presence which guarantees customer assistance even for old daikin models.
Founded in 1924, today the multinational Japanese company Daikin is a world leader in air conditioning and heating systems in any construction area. The company has been operational in Italy since 1968, with 4 locations in the country and local headquarters in San Donato Milanese. Daikin's philosophy is to constantly be at the service of man's well-being, and it pursues this objective with strong determination, creating state-of-the-art efficient products for the highest comfort, while respecting the environment.
The most requested models among the daikin air conditioning units in the field of residential air conditioning are Daikin Emura, Daikin Siesta, Daikin Stylish, Daikin FTXS35K. Try the daikin inverter aircon!
You can now find the new Bluevolution 2016 line, which uses the R-32 refrigerant, safer, less polluting, and it improves the energy rating of these devices.