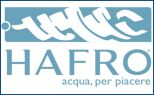 Hafro
Hafro is a company specialized in the production of whirlpool tubs, shower trays and mini-pools which is part of the Geromin Group.
Showing
1
-16 of 183 item(s)
Hafro Geromin hydromassage tubs are an excellent alternative to the more famous Jacuzzi hydromassage tubs and are available in different sizes, with ozone therapy and chromotherapy, also excellent for neurovascular rehabilitation. The most popular line is certainly Minerva, available in different sizes and colors and with side bookcases.
Among the most popular normal bathtubs is the freestanding freestanding bathtub Move: with a simple and refined design, it is much loved by architects, designers and landlords.
One of the best-selling collections is the Nova, available in the normal or whirlpool version, rectangular or corner with rounded corner. The Nova bathtub is interesting because it is the only one that allows you to have a small bathtub with a seat, starting from the 120x70 size, even with cladding panels.
Read more
Show less