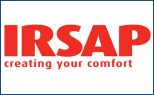 Irsap radiatori
Irsap was founded in 1963 near Rovigo, in the north-east of Italy, and specialized in manufacturing heaters. Year after year the company continued to specialize and improve their production, becoming a world-renowned brand.
Showing
1
-16 of 318 item(s)
rsap is one of the best manufacturers of designer radiators and radiators in Italy. It was born in 1963 in Arquà Polesine and began its activity with the production of pressed steel radiators. Thanks to its constant technological and design evolution, more than 500,000 different possibilities are now available to create the most suitable radiator for the needs of the end customer. The company therefore guarantees the creation of a truly made-to-measure product.
The range of Irsap radiators and towel warmers ranges from the better known Tesi column radiator, the first tubular radiator introduced on the Italian market, up to models which, due to their shape and colour, can be considered real furnishing elements. Just to give an example let's mention Orimono: a 1400mm diameter stainless steel sphere covered with a soft fabric made of 90% wool and 10% nylon. The upholstery fabric is available in 5 different finishes, to try to best adapt to the most popular nuances in homes.
The workhorse of the company are the Irsap Tesi radiators. They are available in the traditional versions or in the versions for replacing radiators in cast iron, aluminum or other materials. Like all the main radiators and designer radiators in the Irsap catalog, they are available in many different colours, divided into the three macro areas Special Colors, Classic Colors and Ral Colors to allow you to customize your radiator as much as possible.
The most used types of Tesi are the Irsap Tesi 3 and Irsap Tesi 4 versions. They are the most performing and efficient solutions, remaining within the context of a not particularly thick radiator and with an average height ranging from 180 to 200cm.
Irsap's production is not limited to just radiators or towel warmers, but also includes all the accessories required for installation, such as the dowel brackets for fixing the radiators to the wall.
In addition, thermostatic valves or the most modern heads can also be purchased. In recent years, the Irsap production has proposed the NOW thermostatic head on the market, a digital modulating thermostatic head to be installed on the valves of the same brand. The Now system manages heating systems with a few simple commands, even directly from your smartphone and, thanks to the Now system, you can save up to 42% on energy by controlling the temperature in each room. The modulating head Now uses wireless technology and is able to give you the best climatic comfort at the lowest cost.
Read more
Show less